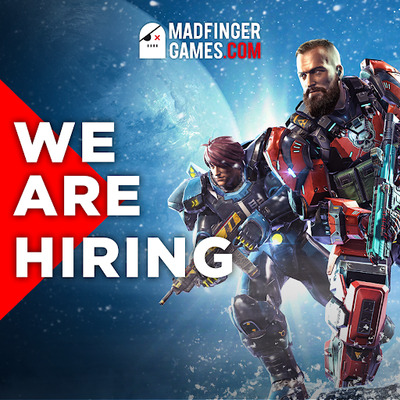 Senior UI Artist
Job Description
MADFINGER Games is looking to "level up" our talent. We' are on a hunt for a Senior UI Artist who considers themselves an innovator, dynamic, and collaborative. We are offering chance to work on superb games of free-to-play genre, an opportunity to significantly impact the final game and execute your own designs and ideas while learning from game industry veterans .
MISSION:
Create features for our existing games or designing completely new ones
Design and create UI mocaps / final UI in MFG games
Cooperate with Game Director and Art Lead on Creating best possible UI experience
Design UI based on game design needs
Create great artistic and usability UI designs and proactively protect our games from bad UI design
Skills & Requirements
PROFILE:
Experience with creating UI for Games
Excellent Graphic Design Skills
Experience with working in Game Editors
Ability to swiftly create functional / animated Mockups for iterating UI designs
APPRECIATED:
Hands on experience with Unity
Shipped Game for Mobile
Additional Information
Relocation assistance is offered
How to Apply
To apply, please provide your resume, including a link to your portfolio to the e-mail address jobs@madfingergames.com.
Your portfolio should demonstrate visual examples of the best character and environment designs that you have created.
WE OFFER:
Chance to contribute to development of top game titles in a globally successful company
Opportunity to bring your own ideas into our games
Work alongside top people from the gaming industry in the Czech Republic
Friendly team and attractive workplace situated close to the city centre
Access to the most up-to-date game design technology
Competitive salary, bonus and benefits
Sabbatical leave after 7 years working for the company
Relocation Package
Czech lessons for foreigners and English lessons for all employees
STARTING DATE: Immediate
LOCATION: Brno
CONTACT: jobs@madfingergames.com
About the Company
We are an independent game developer with eight years of experience in the market. Our studio is based in Brno, Czech Republic, in the centre of Europe. At MADFINGER Games we simply love making awesome hardcore gaming experiences, and our team consists of veteran game developers with a wealth of experience on console and mobile. We pride ourselves in bringing the most cutting-edge and up-to-date design to our games, as players of Samurai 2, Dead Trigger 2 and Shadowgun Legends will attest.
Our latest project, Shadowgun Legends, is an Award-winning FPS game for mobile.
For our upcoming projects, we are seeking talented and experienced artists, someone who is a passionate game creative like the rest of us. We offer a vibrant, inspiring environment among a team of game enthusiasts. As part of our team, you will push the limits of your abilities - join us and make games that will make a difference.